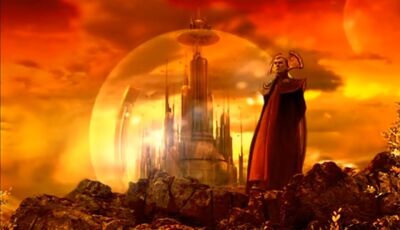 Summary
The Time Lords were inhabitants of the planet Gallifrey, who were most famous for the creation and attempted monopolisation of time travel technology.
~credit to the Doctor Who wiki
Statistics
K-Tier: Tier 1
C-Tier: High 1C
Name: Name of the factions
Origin: Doctor Who
Type of Faction:Great council
Era: Dark Times
Times of Stability: Eons of Stability
Times of Turmoil: Dark Times,Time Wars
Date of Creation: 10 Billion BC
Date of Dissolution: Nigh extinction during the Last Great Time War. However the Doctor imprisoned them in an pocket universe. In the Episode hell bent it is stated that they break out of their prison and return to the universe.
Population: In the Billions
Holdings: 1 Planet (excluding their copies of it).
Weaknesses: Corporal beings,lack in military.
Technologies
Weapons
De-Mat Gun
The Moment
Vehicles
Ships
TARDIS
War TARDIS
Others
The Time Lords replaced chaos and magic with order and logic. They build the multiversal space-time continuum. In the Episode End of Time the Time Lords were shown to destroy all of reality with the Ultimate Sanction.
Notable Victories:
Put some notable/good matches that result in the civilization's victory.
Notable Losses:
Put some notable/good matches that result in the civilization's loss.
Inconclusive Matches:
Put some notable/good matches with the results still unclear.